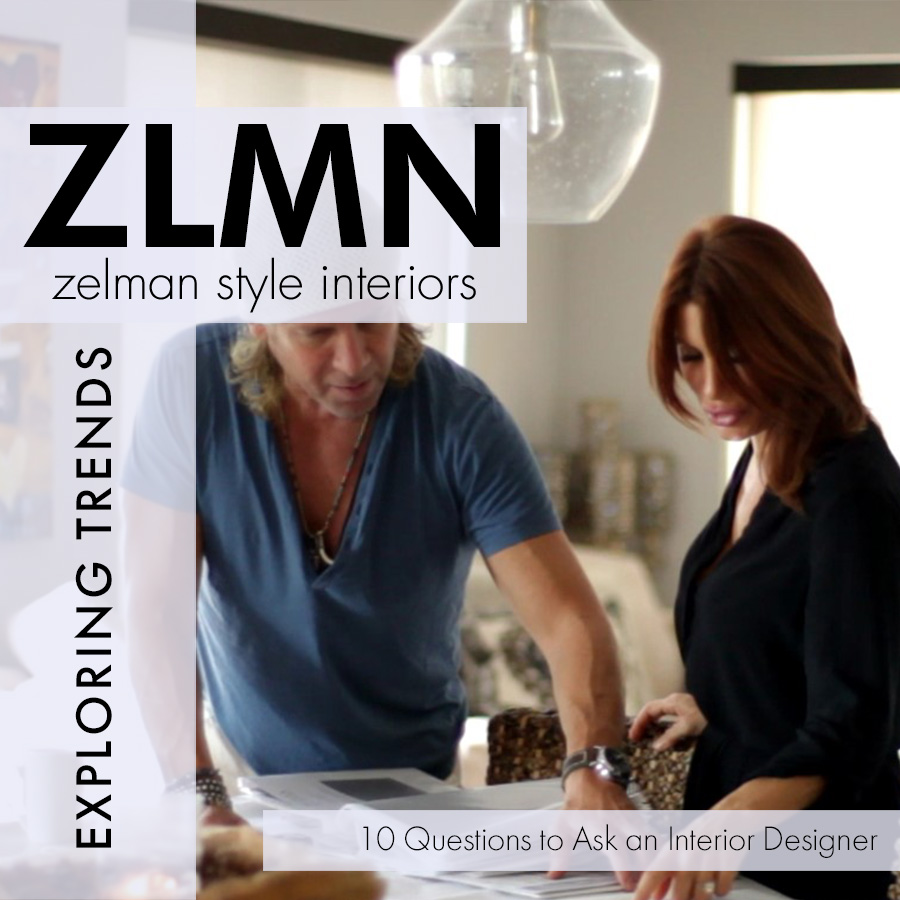 10 Questions to Ask an Interior Designer
Zelman Style Interiors is a full-service luxury interior design firm derived from a team of passionate and creative team members. We value the relationships built with our clients and look forward to creating the space of their dreams.
1. Why should I work with an interior designer?
Many of our clients come to us with a general idea of how they want their space to look. As experienced interior designers, we can help transform your idea into a true vision. We don't simply decorate; we completely renovate the space. This can mean anything from moving walls to creating custom pieces for installation. Other benefits of working with an interior designer include saving time and energy as well as increasing the value of your home.
2. What cities do you work in?
In short, the answer is anywhere! Although our office is located in Florida, our design team is happy to travel wherever they are needed. We have a client base around the world. We have designed spaces in New York, Chicago, Los Angeles, Boston, Nigeria, The Caribbean, Venezuela, Brazil, and London.
3. How Would you describe your design style?
There is a wide variety of interior design styles for people to choose between. There are many reasons why interior design matters. Not only does it showcase your personality, but it can also impact your overall health and mood. Regardless of our personal preferences, we aspire to make our clients' dreams come true. Whether your style is more modern or contemporary, the team at Zelman will create a design that is unique to who you are catering to your specific lifestyle.
4. What services do you offer?
Zelman Style Interiors is a full-service interior design company that does it all! We work in both residential and commercial spaces providing consultations, architectural details, and high-end design of interior and exterior spaces. Our services also include virtual design through the use of 3D digital renderings that provide a visualization of the design prior to the start of construction. Lastly, we work with realtors, providing consultations to help clients envision all the potential that a space encompasses.
5. Can we see samples of your work?
We have samples of our completed works for you to view in our portfolio. Follow us on Facebook, Instagram, and other Social Media platforms for updates on our current projects, including video walkthroughs and behind-the-scenes sneak peeks!
6. How will you present your design concept and ideas?
Here at ZLMN, we always provide you with completed works for you to view in our portfolio, throughout the design process we will show you sketches, mood boards, and renderings of what your future space will look like.
7. What happens if I don't like the design?
A customer who is unsatisfied with a design is a very rare occurrence since we are in full communication throughout the entire process and the design concept is based on the client's desired design. Our team is dedicated throughout the design process and looks to create a unique and personal environment for you. By the end of your project with ZLMN, you will have a timeless residence built specifically for your lifestyle.
8. What are your success stories?
Take a look at one of our testimonials from two projects we did in Surfside, FL.
"I worked with Steve Zelman on two projects in Surfside, FL. Both projects came in on budget, both were beautifully designed and executed well. Zelman Style Interiors is very meticulous about giving you detailed drawings, samples, etc., as well as a detailed binder so that you know the paint color numbers that were used and you have a great reference book after the job is completed. The supervision and follow-up were great and they stand behind something if it goes wrong or the contractor doesn't follow the specs. Steve is extremely talented and brings a fresh, modern vision to timeless classic elegance."
9. What if I have to put my project on hold?
We completely understand how life can get in the way of certain things, if this happens, we will be in full contact with you to make sure that once you are ready to resume your project, we have initiated an action plan.
10. Where do you find inspiration?
We gather inspiration from the world around us! From walking down, the street to scrolling through Pinterest, we find inspiration anywhere and everywhere.
At Zelman Style Interiors, we can help design the perfect space you've been dreaming of. Contact us today to get started!