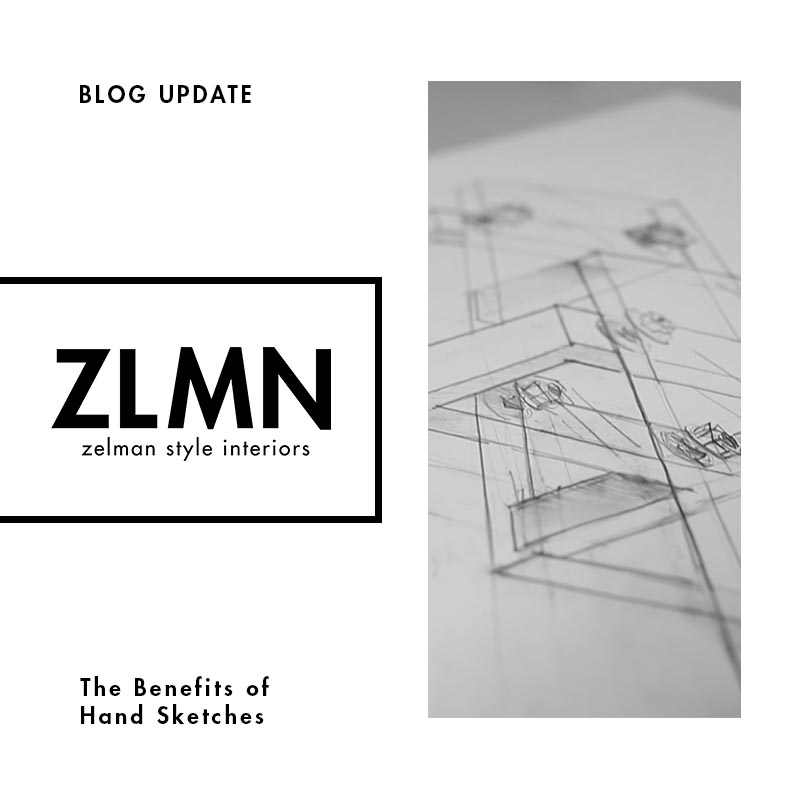 The Benefits of Hand Sketches in the Interior Design Process
Every great idea must start somewhere. At Zelman Style Interiors, all our great ideas start with hand sketches. Creating hand sketches is a critical step in the design process. Along with inspiration boards and 3D digital renderings, we utilize hand drawings as a way to cultivate inspiration and communicate ideas to our clients.
Concept Development
At Zelman Style Interiors, each of our designs is unique to the individual client. After we have learned about the client, their preferences, and lifestyle, we begin creating a design for their space that we feel best suits them. When brainstorming, our minds are often swimming with a plethora of ideas. Hand sketches are an easy way for us to clear our minds and jot down ideas without overthinking them.
Basic Composition
Flexibility is important throughout the design process. Hand sketches allow for quick planning and problem solving while designing. Although technology had provided many advancements when it comes to design, it can also be known to restrict creativity. We prefer to create the basic composition using hand sketches to maintain flexibility for our designs.
Client Communication
Hand sketches are a great way to communicate initial ideas to the client. These loosely developed designs provide a visual that is easy to understand. Many times, if an idea has already been put through a computer and edited to appear perfect, a client will be less likely to request changes. At Zelman Style Interiors, we strive to provide nothing short of perfection for our clients and therefore want them to feel comfortable asking for modifications.
Are you in the market to redesign your space? Zelman Style Interiors is a full-service interior design firm specializing in high-end residential and commercial interiors. Our experienced, creative, and passionate team is brimming with ideas and is ready to create a space that is uniquely yours. Contact us today to get started!