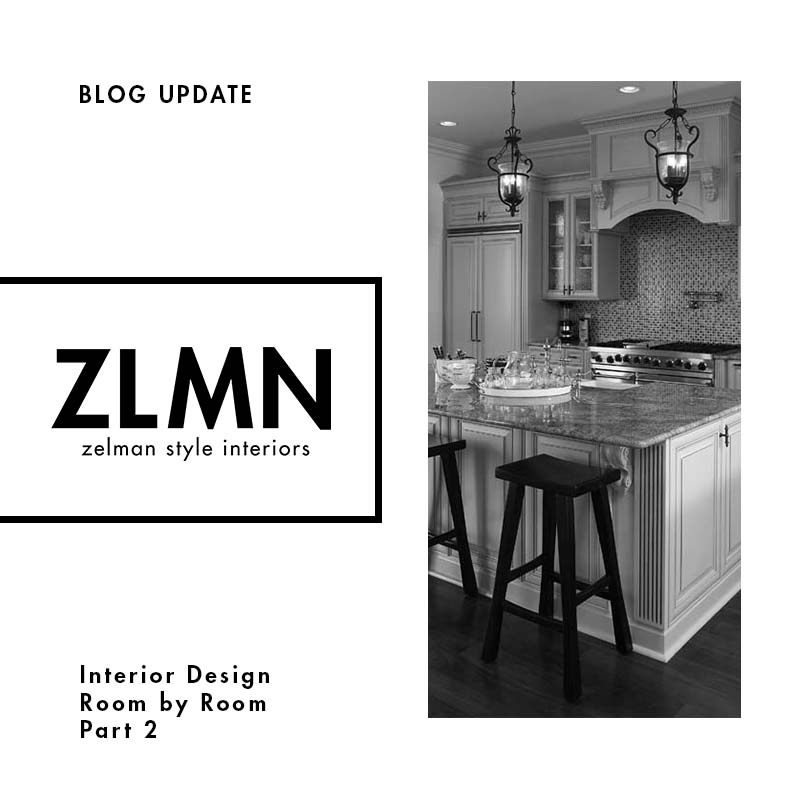 Interior Design Room by Room: Part 2
Do you feel as though your kitchen is stifling your love of cooking? Do you want to entertain dinner guests but your dining room is lacking the "wow" factor? Your home should reflect and support your lifestyle. Sometimes, that calls for a new design!
Kitchen
It has been said that the kitchen is the most important room in the house. Generally filled with hustle and bustle, the kitchen is a room that everyone uses every day. If you are completely remodeling your kitchen, consider the different layouts there are to choose from.
One-Wall: All appliances, cabinets, and countertops are positioned along the same wall.
Corridor (Galley-Style): Two walls facing each other with appliances, cabinets, and countertops along either side.
L-Shaped: Two adjoining walls contain all appliances, cabinets, and countertops while the two adjacent walls are left open.
Double-L: Comprised of either an L-shaped or one-wall kitchen accompanied by a kitchen island equipped with at least a cooktop, sink, or both.
U-Shaped: Similar to a corridor-shaped kitchen, but with a third wall holding additional appliances, cabinets, and countertops.
Beyond the actual layout of the kitchen, you can also redesign by repainting, adding light fixtures, replacing cabinets, adding new appliances, and so much more.
Dining Room
As with any room you design, there will always be a focal point. In the dining room, the table should demand everyone's attention. A few choice pieces, such as the chairs and chandelier, set the mood for the room.
The table should fit both the space and your lifestyle needs. For smaller spaces, use a circular table. For larger spaces, use a long, rectangular table. Also consider what material you want your dining table made out of, whether it be glass, concrete, marble, or wood.
Chairs come in a wide variety of shapes, sizes, and colors. When choosing the chairs to go around your dining table, consider the scale, the height, width, and depth of the seat, the height of the armrests and chair backs, as well as the overall style. From casual to elegant, chairs can wooden, leather, tufted, and so much more.
A chandelier provides mood lighting and a potential focal point. Make sure to choose a chandelier that's proportionate to the room and compliments the color palette and other materials used in the space. Although chandeliers are often thought of as being made of crystal, they can be made from any number of materials and vary in style.
From the foyer to the living room, from the kitchen to the dining room, Zelman Style Interiors can turn your dream home into a reality! Contact us today to get started!