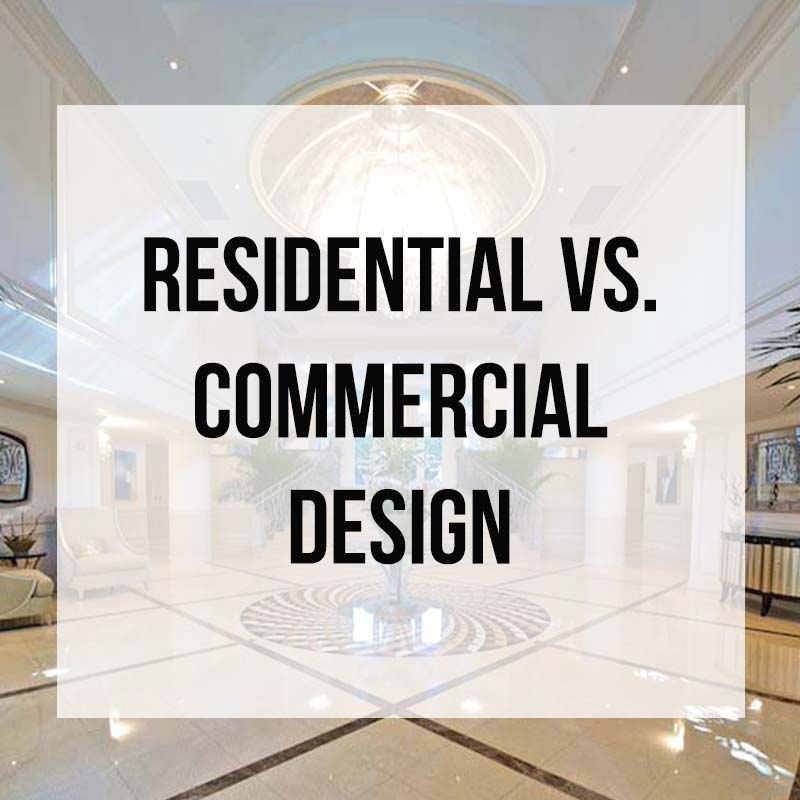 Residential vs. Commercial Design
When it comes to interior design, all projects are not the same. No, we don't just mean by the type of flooring you use or the specific artwork you choose for the walls. When designing for a residential space versus a commercial space, there are many considerations an interior designer must take into account.
Purpose
Residential design is more than just painting walls and changing decor. You must focus on meeting the needs of the family who will live there. It's about creating a welcoming and livable space. The designer will take into account the client's personal wants and needs for their living space.
In commercial design, the functionality is generally based on what kind of space being designed. Is it an office, hotel, small business, restaurant, government facility, etc? The design of the space will be largely determined by how the space will be used. The primary purpose behind commercial design is to increase functionality and elevate the style for the business' financial gain.
Functionality
While it may seem self-explanatory, the function of a residential design is for people to live in it. But it's important to make the design both comfortable and practical. What activities or hobbies do they take part in? Do they do more entertaining inside the home or outside? Do they like cooking? Is their family room the heart of their home? Each of these questions, and more, will lead the interior designer to build a design that is functional for the family.
For commercial design, you must understand what it is that the business does. Not only does the design have to allow the business to perform its services in the most effective and efficient way, but it must also reflect the company's image and brand. The design should be built around the company's vision and goals and make a statement about the business.
Structure
When designing for a residential space, there are fewer codes and infrastructure that need to be implemented. In residential design, there's more freedom with design choices and how a home can be built or remodeled. But with commercial spaces, there are safety factors that first need to be considered such as elevators, wheelchair ramps, meeting rooms, a large parking garage, and more. These safety features and requirements could influence or affect the overall interior design of the space. In commercial design it's about balancing safety and functionality with the right style and aesthetics.
Inspiration
For commercial design, much of the inspiration will come from the brand image. The color palette, materials, textures, and artwork will be representative of the company's overall vision. When designing for a residential space, there is not a brand or image to match. The inspiration will come from the homeowner's needs, style, and interests.
In both residential and commercial design, interior designers must always understand their clients and their specific needs. Whether you're looking for residential or commercial interior design, contact ZLMN today for a free consultation so we can start designing the space you've always dreamed of.