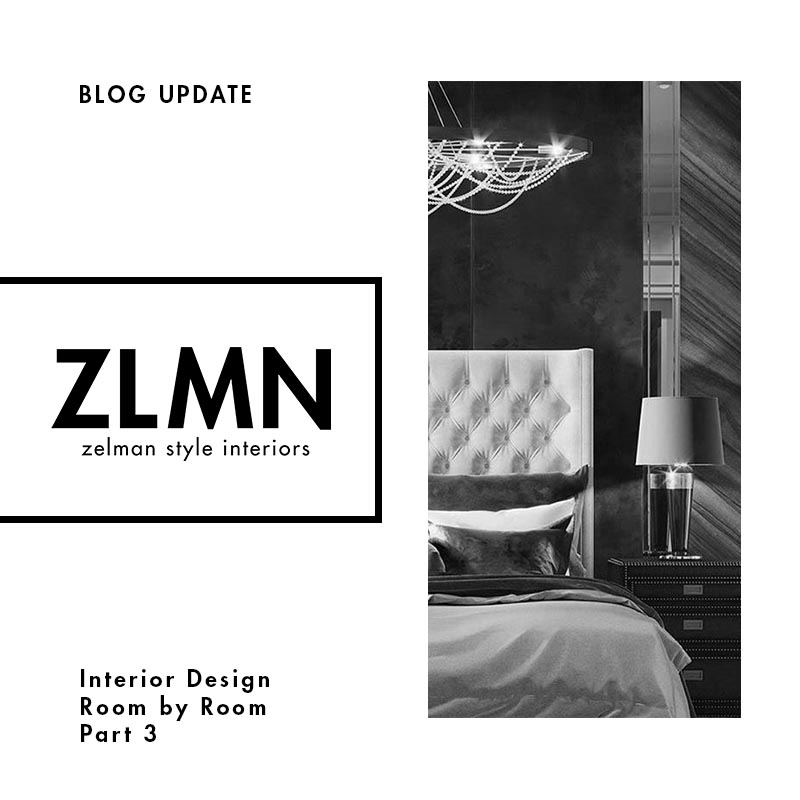 Interior Design Room by Room: Part 3
The bedroom and bathrooms inside of a home should be designed specifically with the user in mind. There are endless possibilities when it comes to designing bedrooms and bathrooms, all depending on what type of environment you wish to create.
Bedrooms
For most people, a bedroom is a sanctuary. It is a place where they go to experience relaxation. Therefore, the design of the room needs to reflect the right mood. Although this will vary from person to person, here are a few things to consider when redesigning your bedroom:
The color of a bedroom should be complementary to your lifestyle. If you are a morning person who wakes up early, choose a lighter, more cheerful color such as yellow. If you are more of a night owl that prefers to sleep through the morning, choose a darker color such as navy blue. Make sure to keep color in mind as you decorate with bedding, accessories, and art as well.
Lighting in a bedroom can have a significant impact on the overall design. Most bedrooms can benefit from dimmable lights as they can help create a peaceful environment. You might also want to consider adding bedside lamps if you enjoy reading in bed or track lighting if you want to highlight a special feature within the room.
The furniture in the room should reflect your lifestyle. For example, will you be needing storage pieces such as a dresser? If you have hardwood floors, then you might consider adding a rug for warmth and comfort. Some people choose to forgo bedside tables, but others consider them a necessity. Ultimately, the furniture within your bedroom should be pragmatic and fit your individual needs.
Bathrooms
Many people use their bathroom for not only practical purposes but also as a place for tranquility. Keeping this in mind, there are several aspects to consider when redesigning your bathroom.
The floors in a bathroom, compared to throughout the rest of the house, must be chosen for more than their appearance. Some preferable materials include porcelain or ceramic tile, vinyl flooring, natural stone, engineered wood, and laminate flooring. Make sure to consider the pros and cons of each including water resistance, resale value, cleanliness, and durability.
The walls should also be constructed with practicality in mind. The moisture in the room created from the shower can easily cause water damage if walls are not properly prepared for the humid environment. Consider wall surfaces such as vinyl wallpaper, interior paint, ceramic or glass tile, beadboard, and tileboard.
The bathtub or shower is one of the biggest design considerations in any bathroom. The type of bathtub or shower you choose relies heavily on personal preference. You can choose from an alcove bathtub, an oval bathtub, a drop-in bathtub, a corner bathtub, or a freestanding bathtub. Perhaps you would prefer to not have a bathtub, but only a shower stall. Shower stalls come in a variety of shapes and sizes, some frameless, others framed, or with a variety of doors to choose from including hinged and sliding.
If you are looking to design a new space or redesign an old one, Zelman Style Interiors is here to help. Our team of talented designers will walk you step by step through the design process, ensuring that the vision you have in your head will turn into reality right before your very eyes. Contact us today to get started!