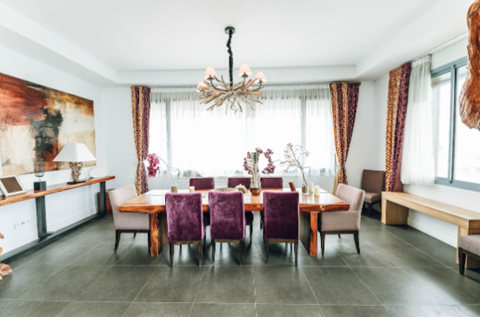 10 Ways to Inject Personality into Your Dining Room
The key to injecting personality into your dining room is making it feel like a home. You want your guests and friends to enter the space and instantly feel comfortable instead of feeling on edge and constantly worried about spoiling the ambiance of the room.
High-end residential interior design Miami is all about creating a dining room that boosts intrigue and increases conversation among guests. Whether focus is on the furnishing, colors, or artwork of the dining room, we can help you create a unique space that reflects your lifestyle and personality while ensuring that all the latest design trends are followed.
Here are some ways to attract attention to your dining room and make it feel like your own:
1. Add a Credenza
One of the best qualities of a chic dining room is that you will always find a credenza, also known as a sideboard. The overlook feel of a room can instantly be elevated by adding a piece of vintage furniture topped with luxury materials like marble or butcher block.
Along with elevating your dining room, this also increases functionality as you will have more serving space for dessert or beverages without making the space look too cluttered.
From an aesthetic point of view, the credenza can also be used as a display case for family heirlooms or your special glassware collection.
2. Focus on the Lighting
The reason why candlelit dinners are synonymous with romantic nights is because lighting can set the tone of a conversation. Similarly, a celebration calls for bright lights to match the joyful nature of the event.
To ensure that your dining room can cater to any mood, you must ask your interior designer to layer in the lighting. This means installing a dimmable fixture on top of the dining table, adding sconces or lamps close to the fireplace, and always having votives or candles available.
These options will ensure that you have loads of choices- you can enjoy low lighting during dinner and task lighting when prepping your meals for the week.
3. Think about an All-White Palette
All-white interior design in Florida has become a sensational vibe because of its photorealistic quality. Luxury dining rooms are all about elegance, and what better than all-white furniture and ample seating?
The key is to focus on proportion and symmetry- add a rug on the black tiled floor in the middle of the room to create a beautiful spotlight in the room. You can also include a seating area with a bench, grand piano, lounge chair, sofas, and accent tables for your guests to shift to once they are done with dinner.
Stick to nude, beige, and white color palettes and incorporate different styles to make your space look more put-together.
4. Throw in a Conversation Starter
A unique dining room is all about creating a lasting impression that encourages conversation while representing the likes of the homeowner. The accessories, artwork, and color palette can help communicate information about the house owner while providing the guests with an exquisite dining experience.
Communicate your interests and hobbies to your interior designer as a guide to creating a space that complements your likes and dislikes. You can put up anything on the wall that resonates with your personality.
Try to include as many personal references and aesthetic connections as you can. For example, if you have a bubbly personality, a bold color palette would look wonderful.
5. Throw in Your Favorite Colors
Did you know that color psychology is real? Different colors make people feel different things. While red may help you feel more excited and energetic, blue might make you feel calm and collected.
Think about what your favorite colors are and add them to your dining room. You do not have to paint an entire wall that color; you can also add sofas or paintings in a complementary shade.
6. Add Flowers
Flowers in a dining room may seem like an obvious choice, but many of us have forgotten how good this old classic looks. Flowers are not only affordable, but they are perfect for brightening up any space.
Make it a point to bring fresh flowers into the house once or twice a week and set them in the center of your dining table. You can even pick out days for specific flowers- for example, on Mondays, you can get sunflowers, and on Thursdays, you can get daisies.
If this is too high maintenance for you, you can always stick to different kinds of dried flowers- they look spectacular and won't require you to water them every day!
7.     Chandelier
Nothing adds more personality to a room than a beautiful chandelier. Not only does it instantly draw attention, but it also gives the viewer a peek into your personality, depending on the kind of chandelier you choose.
Think about installing a chandelier in the center of your dining room immediately above the dining table to create the perfect ambiance.
8.     Don't Forget the Entryway
Most people tend to forget about the entryway of a room and dismiss it as a place to keep shoes and coats. However, have you ever realized that your entryway is the first place guests notice when they walk in?
Why not decorate your entryway in the way you want? Add colors, personal items, and family portraits so that whoever walks in instantly feels comfortable.
9.     Add Space for Your Hobbies
Even though a dining room is a place to eat, why should that stop you from using it for other purposes? Think about creating a corner for the activities you like. For example, if you enjoy reading, make a small reading nook in your dining room where you can lounge before or after your meals to enjoy a book.
Similarly, if you enjoy cooking, think about merging your dining room with your kitchen so that you can display your cookware and recipe books!
10. Experiment with Textures
Unique textures and colors can transform your space completely. The best place to showcase your personality is on the walls of the dining room. You can add a textured wall covering or some bold paint depending on the kind of furniture you have picked for the room.
We recommend using a high-gloss paint finish to boost the dramatic feel of the dining room. You can stick to a traditional color palette but execute it in a contemporary manner so that the space can stand out from other rooms in the house.
Don't miss out on an opportunity to add interesting surfaces and textures in the horizontal planes, such as the ceiling, table, and floor.
Are you looking for a high-end residential interior design Miami team to help you design your dining room? Let us help you!