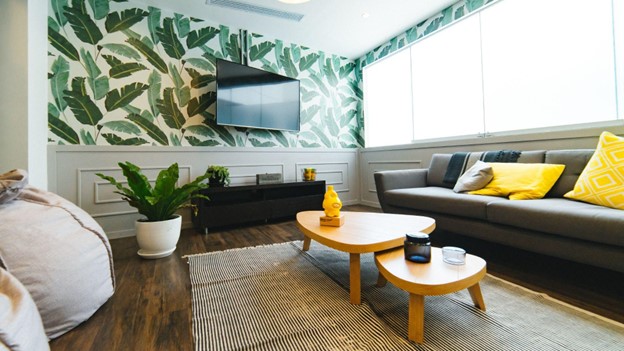 5 Top Interior Color Schemes for Your Home Design
Looking for a high-end residential interior design in Florida? Look no further as we disclose the best interior designer for the perfect interior color scheme.
When you enter a thoughtfully designed interior, you notice that everything just fits into place. From the furnishings to the decor, each aspect complements the other. And what brings it all together even better is the color scheme of the interior design.
Simply selecting a color scheme alone doesn't suffice. You have to consider factors like; Does daylight enter these rooms? Who is the primary user of this room? What kind of paint finish are you thinking about using?
To learn how to create a successful color scheme for a home, it is imperative to have the answers to all of these questions. An interior color scheme is composed of carefully chosen colors that have been thoughtfully positioned. The effect and experience of individuals in that place are determined by the design aesthetic of the colors.
To help you pick the perfect color scheme for your home décor, we are listing the top 5 interior color schemes and how they affect each other. Let's dive right in!
1. Inspiration from Nature
The green color scheme channels the power of life. It has a naturally calming and soothing effect that no other color provides. Various color combinations create different viewpoints; for example, the deeper hues give the user a sense of security, comfort, and reassurance, which was necessary during the challenging circumstances encountered the past year due to the pandemic.
According to several psychological studies, even in the midst of the pandemic's uncertainty, the color green calmed the psyche and maintained a tranquil environment.
With furniture made of ravensara or sandalwood, the green color works well. For decor, you could also couple up some delicate dried floral arrangements. The color is inspired by a variety of items, including garden blooms and floor-level leaves.
A green color scheme will still be trending in the coming year because individuals will continue to prioritize their mental well-being and the green color helps to do so.
Moreover, a natural color scheme is ideal for nature lovers. There isn't a better combination than tan, green, and white which goes perfectly well with materials such as hemp, burlap, and linen. By including nature-inspired artworks, you can make this combination even more dramatic.
2. Neutral Color Scheme
Grays and creams are the two neutral color pairings that are most common. The usage of neutrals is best reserved for private places in order to create a feeling of intimacy throughout the home.
As they contribute to projecting natural light, they can be utilized in various areas of the home, thereby creating the impression of more space in a particular setting. These stand for comfort and elegance.
The colors serve as a complementary backdrop for a wide range of fabrics, wall decor, and furniture from all styles. These colors are calm and have soft tones and tints, which relieve stress. There are undoubtedly some color combinations that induce calm and peace, such as blue, green, and sandy tones.
It will be all about ultra-clean, neutral hues that divide and connect rooms across the house.
The relevance of multipurpose and open floor plans that go well with neutral colors has increased. The extreme minimalist style is in great harmony with this color palette and is trending among interior designers. Florida based residents can take advantage of the interior color scheme of their dreams by hiring a high-end residential interior design team.
3. The Gray Color Palette
Among the most popular muted colors is gray. More earthy tones like those of terracotta, vibrant yellow ochre, and even dusty beige are once again in style amid Grey color schemes. These shades give a space warmth and character. These natural hues serve to create harmony by bringing the outside and inside together and are once again linked to nature.
Grays are a warm substitute for traditional neutrals and whites because they are graceful and well-balanced. Perfect for combining natural features and accessories to produce a cozy appearance. One of the main reasons we notice interior design ideas is that gray with red and green undertones modify the mood, making areas feel more predictable and cozy.
To create a harmonized appearance that feels both contemporary and classic, muted grays can be matched with other natural colors and materials.
Combining bright colors keeps any person from feeling tired or worn out. Accents of orange and pink work well with deep caramel and brown tones.
4. Sky and Sea Blues
The color blue and its mixtures have a very light, airy feel to them. The finest colors for experiencing tranquility are those that are calming, and bathrooms and bedrooms are great places to use them. Cooler tones immerse the viewer in an urban atmosphere, while electric blues add some drama to the walls. The sky blue color, which exudes joy, can be applied in any space.
5. Modern Color Palette With Color of the Year 2023
Living rooms and bedrooms should be decorated in rich, deeper hues that evoke stability and security. Peachy pink tones give a familiar, opulent touch of elegance that feels reassuring and constant as our reality continues to change. These tones can produce a calming and inviting atmosphere that is ideal for private spaces like the bedroom when coupled with wooden colors and contrasting pastels.
It's no surprise that Benjamin Moore's 2023 color of the year is raspberry blush. Raspberry Blush is a cheery coral color with soft pink hues. It is a highly striking shade that stands out perfectly in any environment. And the expression is all up to you; you may use this color as a striking accent or go all out and cover an entire room in it.
It's the perfect color if you are thinking of changing your home color scheme.
Wrap Up
These are our top 5 interior color schemes for your home design. If your home is begging for a makeover, now is the time to get in touch with a high-end residential interior design team in Florida, Zelman Style Interiors.
Zelman Style Interiors is a Florida-based, full-service interior design firm with a passion for aesthetics. Zelman is ready to work with you in realizing the minimalistic luxury you've been daydreaming of with a crew of 11 passionate, imaginative, and ready-to-inspire professional interior designers. Contact us today with any queries or assistance.