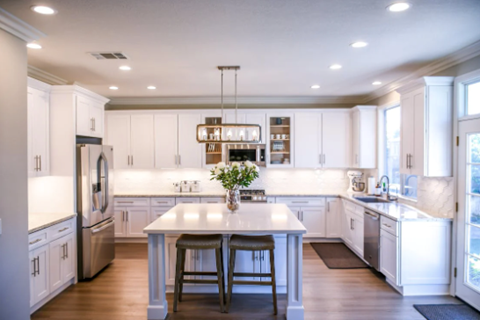 Best Pendant Lights for Your Kitchen
Many years ago, chandeliers were found in each living room, and were a norm in all houses. Today, pendant lights have replaced these.
These are hanging lights that are grouped together and hung at different heights. You can find traditional and modern designs in a number of shade styles, sizes, colors, and materials to best complement your space.
With the variations available, many homeowners may find themselves overwhelmed. We have listed down pendant light designs for high-end residential interior design Miami below:
1. Cluster or Multi-Light Pendants
Are you looking for the perfect alternative to traditional chandeliers? These lights work best with modern high-end residential interior design Florida. The lights can have close to twelve light sources, making them the perfect replacement for big chandeliers in contemporary homes. Every bulb is mounted to its own shade, or smaller bulbs meet a central bulb.
However, keep in mind that these lights are not set vertically. Instead, you will find that the bulbs are suspended at varying angles and heights and come in different sizes and shapes.
As long as you have one electrical opening in the ceiling, you will be able to hang multi-light pendants. Usually, these statement pieces are used in dining and living rooms, and you can use a dimmer to adjust their brightness.
2. Linear Pendant Lights
Are you someone who likes minimalinterior design Florida? Linear lights are modern lights hung on ceilings, particularly on top of luxury kitchen islands. They consist of more than two bulbs hung together vertically.
You can choose between linear lights with a number of light sources grouped under one canopy or a number of pendants that are attached to one base.
These lights come in dome and inverted shapes and resemble cluster or multi-light pendants.
3. Dome Pendant Lights
Think of a bowl kept upside down- that is what dome lights look like. These are used in areas that require directional, bright lighting. Since dome pendants come in a variety of shapes, they are perfect for task lighting.
Dome lights can be placed on top of your dining table, office desk, or kitchen counter, depending on your needs. We recommend using a bulb with a dimmer so that you can set the mood of the room accordingly.
4. Bowl Pendant Lights
Like dome lights, bowl pendant lights take the shape of a bowl. They are suspended from their lower part onto a main shaft, which is why these lights emit light upwards. Sometimes, more than two brief chains can be used to support their weight.
Because of the way bowl pendant lights are shaped, the lighting they provide does not become too bright or intense. You can hang them in any room of the house, including your bedroom or hallway.
5. Abstract Pendant Lights
Abstract lights are a common part of interior design Florida. They have sharp, angular lights that are perfect for homeowners wanting to give their homes a contemporary feel. Not only do they provide light to your home, but just like chandeliers, they also boost the aesthetic of your space.
The shades of the light are made of metal and come in different designs and styles. Since these lights are smaller than other lights mentioned on this list, they can be installed in corridors, entryways, and bathrooms.
6. Mini Pendant Lights
Mini lights are smaller versions of dome or bowl pendant lights. They can be installed on top of the kitchen counter, bathroom sink, or office desk in your study room.
You can hang mini pendant lights in groups of three or more to suit the aesthetic of your room. Since they are smaller than other pendant lights on this list, you can install them with track lights.
7. Cylindrical Pendant Lights
Cylindrical pendant lights come in a cylindrical shape and cloth shade that create a comfortable, warm glow in any space that they are installed. These lights can help boost the texture of your existing décor, and since the shades are longer, they produce less concentrated illumination.
However, since cylindrical lights are made from fabric shades, we would not recommend them to be used in the kitchen. This is because they will attract the grime, grease, and dust that a kitchen normally produces, making maintenance and cleanliness difficult for homeowners.
Different Styles of Pendant Lights for High-End Commercial Interior Design Florida
1. Unique Pendant Lights
If you are looking for something that does not resemble standard light fixtures, unique pendant lights would be perfect for your home.
Even though a large variety of pendant lights would fall under this list, they usually include lights with creative designs that are used to boost the décor of the room rather than increase lighting around the house.
2. Contemporary Pendant Lights
Because these lights are known for their simplicity, they can help provide a clean aesthetic to any room. Contemporary lights usually include abstract or geometric lights that come with metal shades.
Contemporary hanging lights that come with exposed lights also fall in this category.
3. Traditional Pendant Lights
These pendant light designs are more detailed and intricate than other lights. Pendant lights that have vintage and rustic features usually fall under the category of traditional pendant lights.
Conclusion
Based on how you want your luxury kitchen to look, pendant lights are a wonderful idea. They are functional and aesthetic, and since they come in so wide varieties, you can choose a style that works with the existing décor and vibe of your kitchen.
Before you choose your final pendant light, ensure that it is easy to clean. No one wants to deal with lights that will get dirty in a few months. Zelman Style Interiors can provide you with some options after understanding your lifestyle and taste. Get in touch with us today to build a classic, timeless residence that fits your lifestyle perfectly.