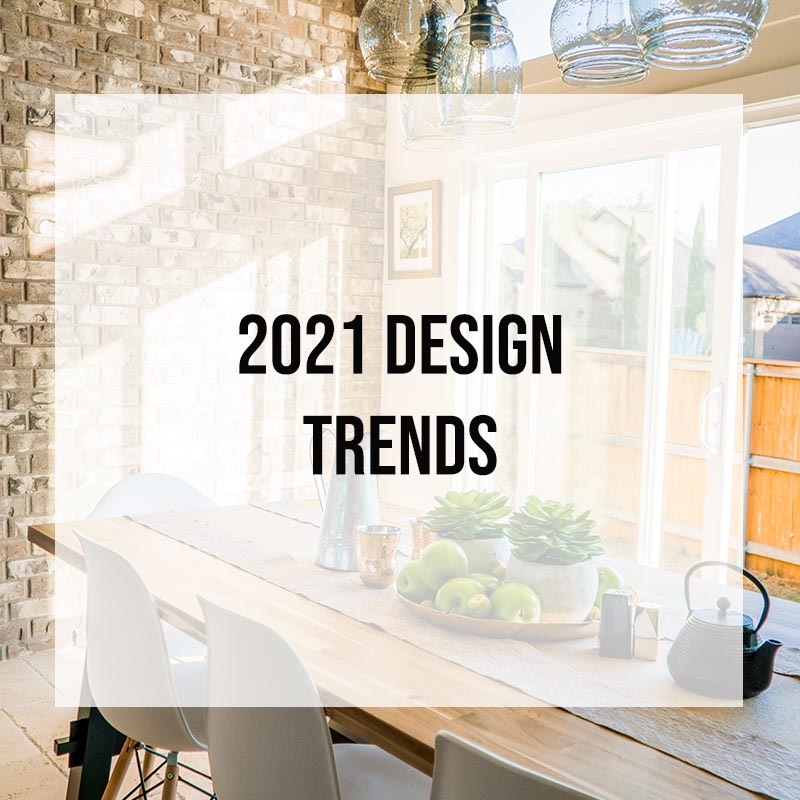 2021 Design Trends
With 2020 finally behind us, now is the perfect time to get rid of the old and welcome in the new! A new year brings with it many opportunities for a fresh start and your home is no exception. Several new design trends are likely to gain traction over the next year.
Multifunctional Homes
With so many people still working from home, the need for a multifunctional house continues to be on the rise. Having a dedicated space to differentiate work life from home life is important. Transform a spare room into a home office or gym. If you do not have a spare room, try arranging the furniture to help separate the space in one of the larger rooms. For example, create a home office in the living room by strategically placing the desk in the room to split the space in two, giving it the illusion that there are two separate areas.
Laid-Back Living
The need to have a polished space for entertaining has dwindled, shifting the focus more towards curating comfort. In the coming year, we will start to see more homes that have a relaxed, cozy look and feel to them. Features of this trend include larger TVs, plush pillows, and additional seating areas.
Bringing the Outdoors Inside
Being in nature has been known to reduce anger, fear, and stress while promoting feelings of peace and happiness. Although the trend of bringing natural elements indoors began in 2020, it will continue to grow in popularity in 2021. Incorporate this trend in your home by painting with natural colors such as ivory, green, or blue, filling empty corners with house plants, and incorporating more natural light.
Luxurious Minimalism
When it comes to design styles, 2021 is bringing about change. Mid-century and farmhouse modern are slowing down in popularity while luxe minimalism is on the rise. A luxury minimalist lifestyle calls for uncluttered space and intentional design. Paint colors such as white, beige, and grey are heavily featured as well as more natural materials such as marble and wood.
Design trends change over the years. As we move forward in 2021, keep in mind what is most important to you and your lifestyle. If you are interested in redesigning your home, contact us today at 954-718-6100. Our talented team of designers can help bring to life the vision you have for your home!