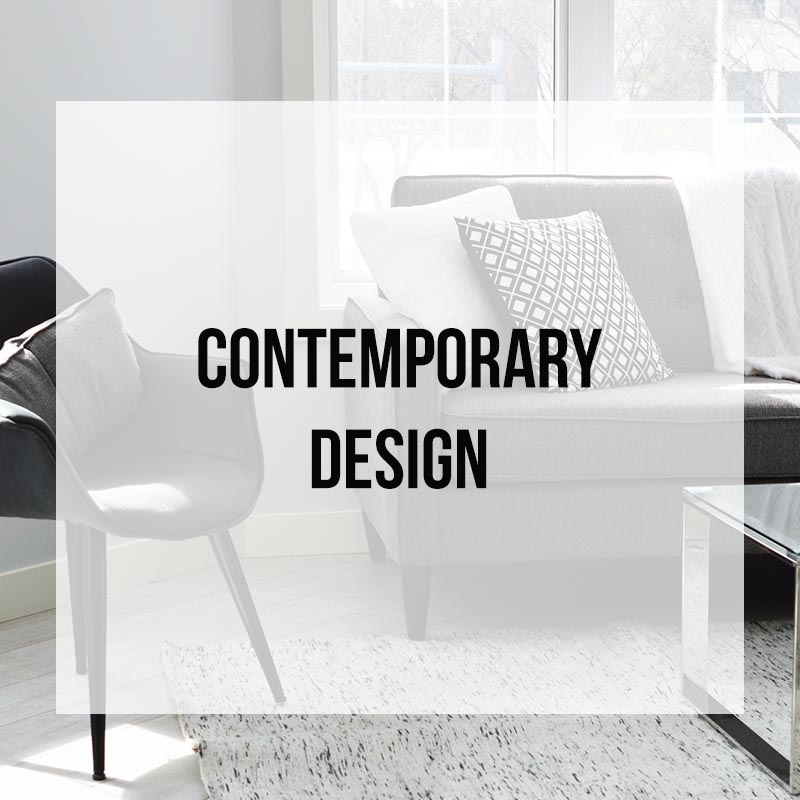 Contemporary Design 101
What is contemporary design?
The word "contemporary" means "of the moment". Contemporary design is not a particular interior design style such as mid-century modern or rustic, but instead a mix of trending styles. Contemporary is the merge of current design styles with past interior design techniques.
Colors
The contemporary design features natural tones of brown, taupe, cream and bright white. These neutral color palettes allow a space to look large and airy. While contemporary colors are often neutral, pops of color are sometimes incorporated with an accent wall or an art piece.  
Texture 
Natural fabrics are often highlighted in contemporary design. Materials such as silk, wool, and cotton usually fit in well. Adding a bold design in the rug or accent pillows can make the space really stand out.
Furniture
Less is more in contemporary design. Furniture in this style incorporates clean lines and little to no detail. Unlike traditional design, contemporary focuses on soft, smooth, and simple. Light-colored woods such as birch are often part of the design process
Modern vs Contemporary
There is a common misconception that modern and contemporary designs are one and the same.  Although modern and contemporary design do look very similar, they are not exactly alike. Modern design refers to the specific time period from the early to mid-twentieth century, focusing on crisp lines and neutral colors. Contemporary style is influenced by an array of styles and what is currently trending in the interior design community.
Contemporary Design at Zelman Style Interiors
Our team at Zelman Style Interiors takes pride in our ability to construct a customized space for you. No matter what your style preferences are, we will create a beautiful and luxurious space tailored to your lifestyle. Call us today for a complimentary consultation and let us make your dream home a reality.