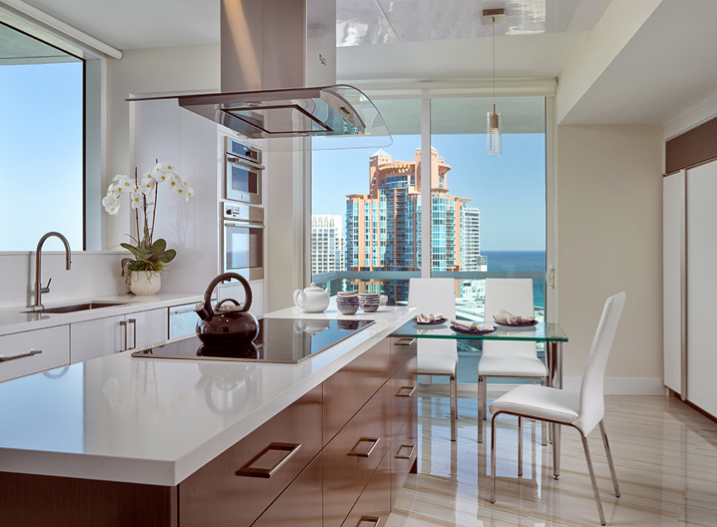 KITCHEN DESIGN HIGHLIGHTS
There are many parts of a home that make it special, the kitchen is one of them. The kitchen is an outlier from other rooms in the modern approach to design. Unlike other spaces the kitchen has appliances that can take up a lot of the space in the room, giving very few options to create an airy contemporary kitchen design.
The kitchen design is always a wonderful part of the process because you have to work with the appliances to create the look you are planning for. Below are some pictures of our kitchen designs that we are especially proud of:
Bright and Beautiful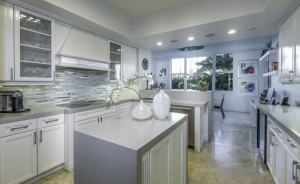 This look was created to showcase a clean and modern scene to the room. The open view in cabinets and the neutral color scheme adds airiness to the room. The accent mirror in the backsplash reflects the light making the space bright and welcoming.
Open Space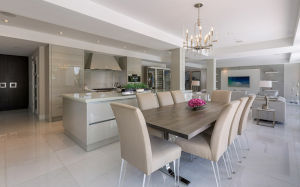 This beautiful open floor design creates an inviting and welcoming space for any gather. People in the kitchen area can interact with those in the living room or dining area, creating the perfect kitchen and dining space for entertaining.
Luxury Living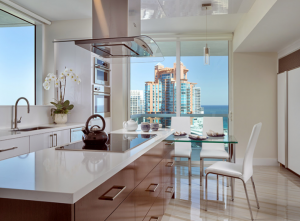 This south beach skyscraper kitchen design wasn't always this beautiful; it started off about half the size of this. Our team pushed back the wall and was able to create a substantial kitchen with two pantries, a double-door fridge, and a washer-dryer unit. This Miami condo was recently featured in Florida Design.
Nautical Dream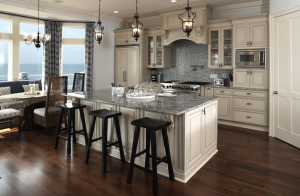 This nautical kitchen design is a more classic look. The warm floor and furniture contrasting with the island, cabinets, and walls, create a warm comfortable setting.
If you are interested in learning more about these kitchens, the process, or creating your own unique kitchen contact us! Zelman Style Interiors is a full-service interior design firm specializing in high-end residential and commercial interiors. With a passion for design, the Zelman Style Interiors Team's priority is to create a unique and personal environment fit for any lifestyle. Contact us today at 954-718-6100 or Eileen@zelmanstyle.com.