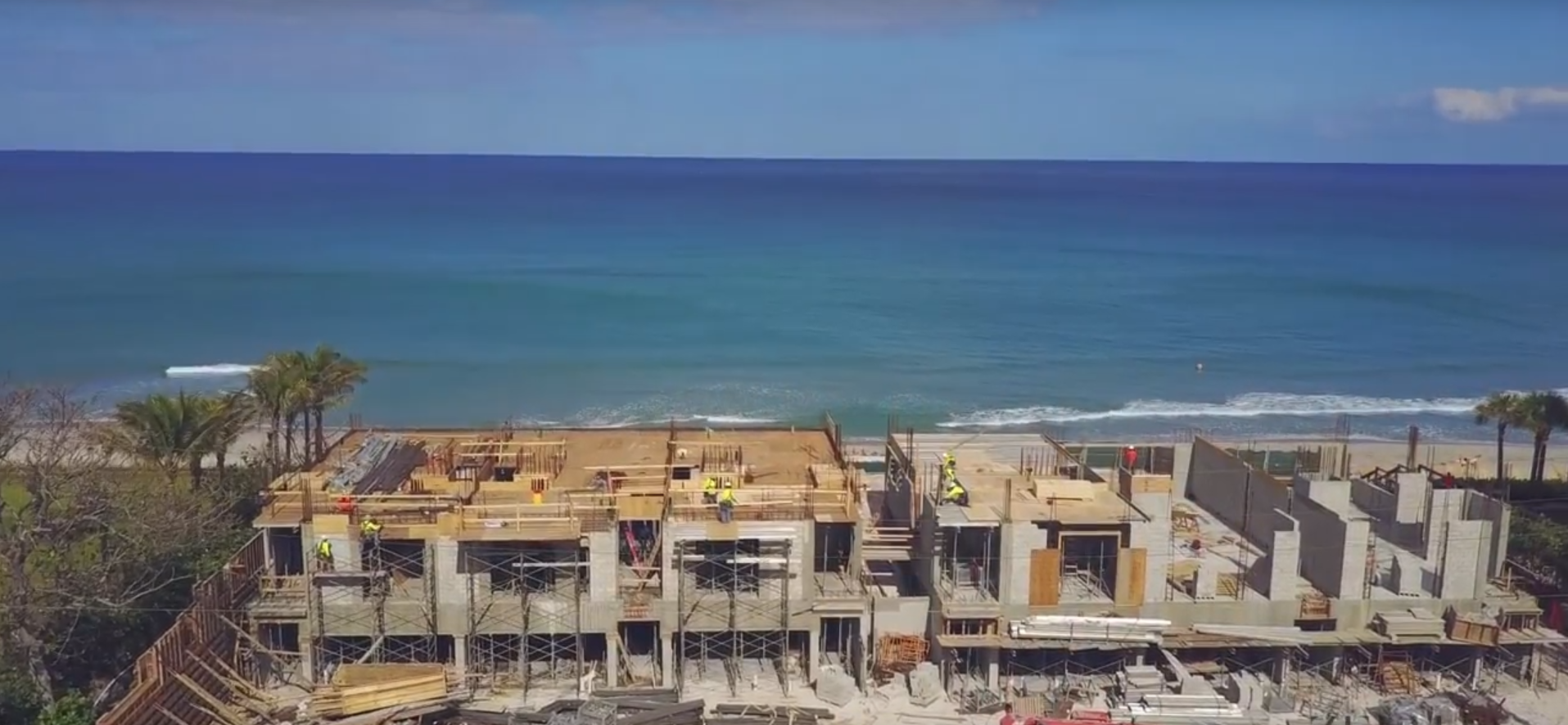 3621 SOUTH OCEAN
The Zelman Style Team is working on the creation of six luxury townhouses in Highland Beach, Florida.  Steven is most excited for this project because the plan fully optimizes the view of the Atlantic Ocean, located just steps outside of the development.
The video below shows some of the current construction, introduces part of the team collaborating on the project, and explains the plan.
These homes are designed to maximize luxury, comfort, and enjoyment of the residents. Each four floor townhouse features a rooftop entertainment deck.
Outside of the estate is a view unlike any other, with a tropical landscape and 200 feet of beach. The townhouses also include a plunge pool off the deck, viewing terraces, and a private, two car garage.
Inside each expertly designed home, there are 5 bedrooms, 6 and ½ baths, not to mention a personal elevator, wet room, wine cellar, and a large multipurpose room. The design is meant to create an elegant sanctuary on the beachfront.
Steven wanted to create a space that was geared towards entertainment, lavishness, and hospitality. As soon as you walk in through the entrance, feet hitting the marble flooring, your eyes go to a lovely crystal chandelier hanging above a four person table. On the same floor there is also the kitchen, a cocktail lounge and a bar area perfect for hosting friends and family. There is also a space for a television, entertainment center, or decorations to personalize the room.
The amenities do not end on the main floor however. The Zelman Style team has created a living space of comfort with walk in closets, floor to ceiling windows, and extra rooms to ensure that the residents will be comfortable whatever their lifestyle may be.
Each residence is equipped with brand new appliances including Miele Custom Kitchens, Waterworks Fixtures and Tubs, Emtek Nickel Hardware, and Samsung Laundry. This estate and design scream lavishness and luxury.
The project is set to be completed for next season, stay tuned for updates!
Zelman Style Interiors is a full-service interior design firm specializing in high-end residential and commercial interiors. With a passion for design, the Zelman Style Interiors Team's priority is to create a unique and personal environment fit for any lifestyle. Contact us today at 954-718-6100 or Eileen@zelmanstyle.com.