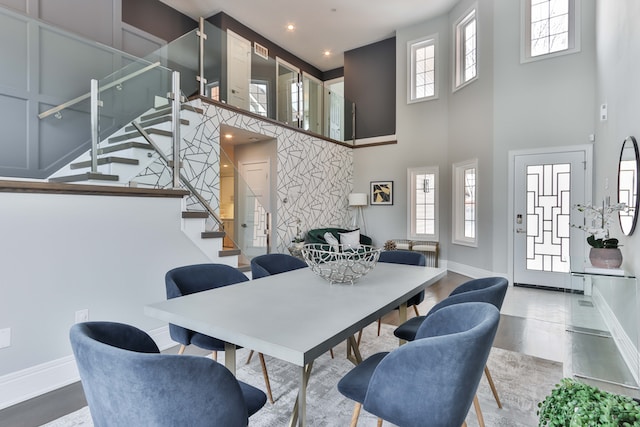 8 Tips to Make Your Home Appear Ultra-Modern
There are various contemporary house design options available. The emphasis in an ultra modern home is on clean, uncluttered forms. The goal is not only to create a cozy space but also to give the home a fresh and fashionable appearance. Inspiring thought and refined style are brought into the home by the current design and lifestyle.
1. Make a Blueprint of Your Thought Process
Interior design is no different from any other creative endeavor. It requires preliminary sketches or layouts before the actual work can begin. Start by measuring your space and any significant items already present. This will give you an idea of how big your canvas will be. Get out a big, wide sketch paper and draw two parallel planes on it. The first will be an easy-to-understand blueprint of the room, while the second will feature detailed drawings of the furniture placement. Include walls, giving their dimensions along with the paint colors and any fixtures you plan to put.
2. Clear the Clutter
Uncluttered living spaces are a hallmark of contemporary architecture of an ultra modern home. There's always room for improvement when it comes to domestic clutter, even if it's impossible to eliminate it entirely. Make full use of available storage areas to reduce mess. You should get rid of any and all unnecessary stuff to free up some much-needed floor space. Mark down the items you will never use again and the ones you haven't touched in the last few years. You should probably give it away.
The majority of household disarray is typically caused by minor items. Therefore, you need to be wary of the little trinkets and the mayhem they may cause. These things often contribute to an overcrowded and confined feeling of a room. After a thorough cleaning, the area will seem much bigger than it actually is. The best minimalist designs use sleek, contemporary lines. You should either replace any dirty or dull hardwood pieces and furniture in your room with new ones or polish the ones you already have.
3. Add Some Flair With Mirrors and Artwork
Neutral tones are not the sole option for today's homes. Choose eye-catching, vibrant hues to liven up your ultra-contemporary showplace. The square footage of space won't be a concern if guests are distracted by a bright yellow chair.
1. Door Trim Painting
The key to achieving a stylish and unique design in your home is to masterfully implement some unexpected elements. Try putting unexpected colors and patterns in unexpected areas to catch people off guard. Your house should serve as an excellent visual treat to the onlookers. Painting the doorway trim is a great way to inject color into your home in a way that is subtle and striking. Stun your houseguests like never before!
2. Furnish With Pieces of Renowned Design
Seek out items that have a timeless quality but a modern relevance to incorporate contemporary design aesthetics into your own decor. This will give your home a nice, furnished ultra modern look. However, finding actual designs from the contemporary era might be difficult and costly, but you can locate copies that are very identical to the originals.
3. Accessorize With Metal
Your room won't make a good impression on guests if it doesn't sparkle enough. Include metallic colors to great effect in the home. Selecting a color that works with your overall look and complements the accent piece is the best way to pull off the understated accent. Keep moderation in mind when using it.
A metallic hue may be used depending on the interior. Many interior design authorities advocate for the use of a single, understated object to tie a space together. Metallic accents look great in any room, but they are best used in conjunction with solid colors while decorating. They contribute to the home's calming atmosphere. When installing metallic strips, it's important to think about the furniture and other home decor pieces already in the house.
4. Indoor Lighting Needs Careful Attention
The quality of your home's lighting can be a major factor in the overall transformation of the space's aesthetic. The overall look of your home's interior can be complemented with a little bit of imagination and some well-placed lighting. Low-voltage bulbs are more cost-effective than high-voltage ones and should be used instead. The addition of a few little lamps strung from the ceiling can do wonders for the aesthetics of your living area. It's important to emphasize the differences between the room's bright and dark spots.
As the very first area visitors see, the hallway of your small home must be immaculate if you want to make a good impression. You can put some more artwork, mirrors, and flowers here.
5. Adopt a Cutting-Edge Approach
There are various ways to put high-tech components into your home, from motion-detecting lights to built-in charging stations or speakers. Homeowners who are also fond of cutting-edge technology have virtually limitless options in terms of both price and variety.
Moreover, installing a programmable thermostat is the best approach to cutting costs while modernizing your home. You can save money on your utility bills by using a programmable thermostat to keep your house at a consistent temperature even while you're not there.
Final Word
Most of us get tired of our home's current appearance after some time, but a few small alterations and the addition of some new materials can drastically alter the domicile's overall appearance and turn it ultra modern. You should not break your band while decorating your home. Luxury always does not mean that you will have to spend a lot of money.
Modifications that are more understated might also give the home a more contemporary and opulent feel. You can achieve the modern appearance of your home by opting for Zelman. We will help you transform your home and make it an ultra modern space without breaking the bank. Contact us now!