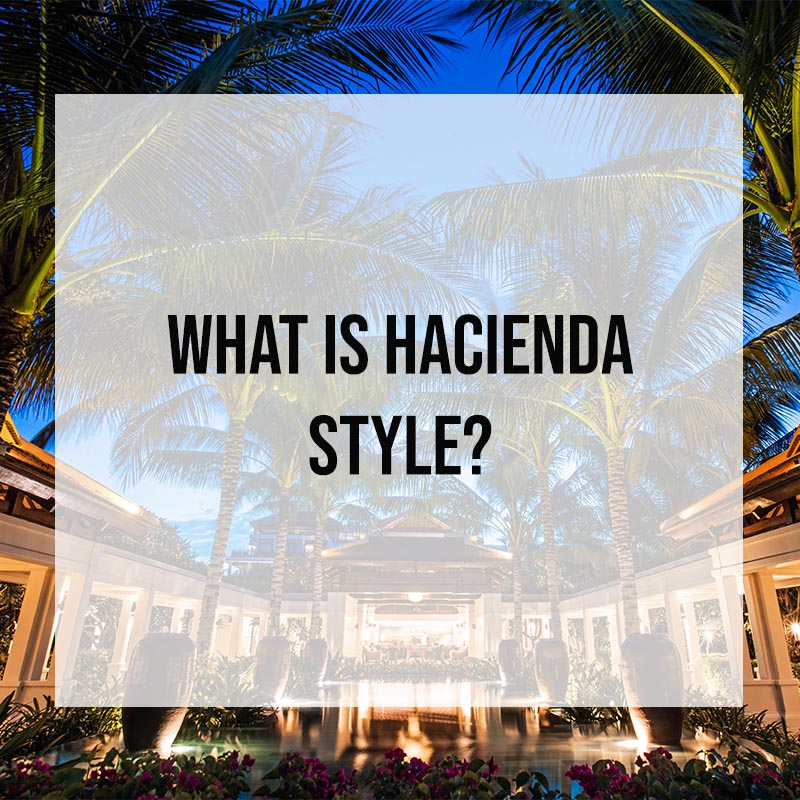 What Is Hacienda Style?
Hacienda-style homes have been wildly popular across the southwestern U.S. for hundreds of years, but there is so much rich history within the style's Spanish and Mexican roots. Hacienda architecture draws on traditional materials and earthy tones, famous for its gorgeous archways, courtyards, and wood accents.
Read on to learn more about the history of hacienda, as well as the key components that make up this traditional style of architecture.
History of hacienda
While hacienda architecture originated in Spain and Mexico, Spanish settlers brought the style to the U.S. in the 1600s. They chose areas with warm, dry climates similar to their homesteads, such as Florida, California, Arizona, and New Mexico. This allowed them to maintain their traditional building techniques by using the same materials.
Even when the Spanish Colonial period ended in the mid-1800s, hacienda remained a popular architectural style. Hacienda-style homes became even more popular during the early 1900s' Colonial Revival movement, where varying regional styles emerged – but the core elements of hacienda architecture have stayed the same.
What Are the Key Elements of Hacienda Style?
Stucco Walls
Hacienda homes are famous for their thick, adobe walls finished with white stucco. These are ideal for hot climates, as the thick walls retain cool air during the day and release warmth absorbed from the sun at night. The hand-painted stucco also adds a rich, beautiful texture to the home.
Clay Roof Tiles
Perhaps the most defining feature of hacienda-style architecture are the red clay roof tiles. Shaped like half of a tube, the clay tiles capture cool air and release it into the home – making this roof style perfect for warm, dry environments.
Wood Accents
Rustic wooden accents are commonly found in hacienda-style homes. Heavy wooden doors, solid-wood furniture, and exposed wooden beams add soothing warmth and texture to the interior.
Courtyards and Archways
A courtyard is a key element to any hacienda-style home, often located on the side or in the rear. These courtyards are defined by stylish archways, which add a bit of decoration to the otherwise simple exterior of hacienda architecture.
ZLMN's New Hacienda-Style Project
It's no surprise that the team at Zelman Style Interiors loves hacienda architecture, as we're now working on a huge hacienda-style project in Boca Raton, Florida! Our team will be doing a major overhaul on the main house, as well as gutting and redoing the two guest houses. Stay tuned for our progress on this exciting new project!
If you're interested in other design styles, like modern or timeless design, check out our expansive portfolio of work! Plus, get in touch today to see how the ZLMN team can transform your space – click here to schedule your complimentary consultation now!