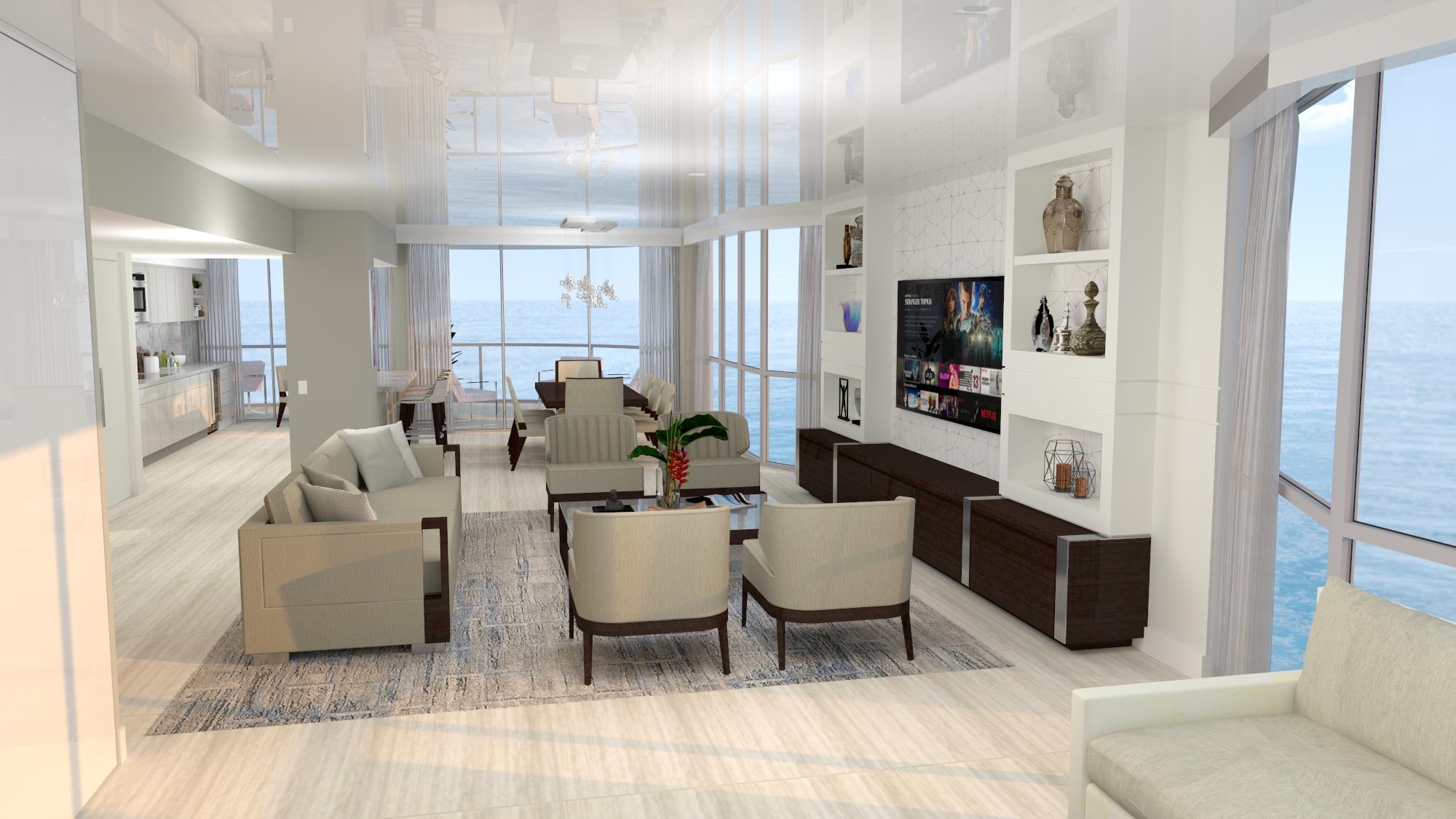 South Florida Interior Design Trends
South Florida Interior Design Trends
South Florida cities such as Miami, Fort Lauderdale, and West Palm Beach all have the unique tropical charm that we know and love. The interior design trends have been evolving in this area to feature this beach vibe. We have seen a monumental transition in South Florida Interior Design- from a Tuscan style to modern contemporary designs. As Interior Designers in South Florida, it is important that we stay up to times with design trends in our area. Therefore we have created a list of local must have design trends!
Outdoor space
Outdoor entertaining space is key for South Florida design. Having a patio that is open to the rest of your living space helps bring the interior of your home outdoors. With a beautiful porch, patio, or balcony, you will be able to enjoy the gorgeous South Florida weather.
Large Windows
Another way to bring South Florida into your home design is giant windows. Not only will this make your space seem larger, but you will also get amazing natural light. Just like having an outdoor space, large windows will bring the outdoors into your interior design, creating a very open and glamorous look.
Extra Entertaining Areas
Incorporating extra rooms for entertaining can make your space feel more extravagant while still creating more functionality. A few extra rooms such as a great room, bar, or entertainment room can really enhance your guests' experience.
Neutral Tones
Many South Florida homes exude vibrancy, extravagance, and uniqueness. Whether it is funky furniture, a statement window, or ceilings that seem to never end, we love to show our glamor. Having neutral tones in your home will help highlight those statement pieces. Neutral tones are timeless, so if your style or the trends change, you can keep your neutral flooring and walls.
Clean Kitchens
An open kitchen with clean lines is one of the best parts of a home. Not only does it look fantastic, but it will also be more functional for your family. Whether you are entertaining or just having dinner as a family, you will definitely want a modern kitchen.
Weaving these Interior Design trends throughout your home will give you that current South Florida interior design you have been looking for. Also, incorporating tropical accents will finalize the glamorous oceanfront vibe that is very in right now.
About Zelman Style Interiors
Zelman Style Interiors (ZLMN) is a full-service interior design firm specializing in high-end residential and commercial interiors. With a passion for design, the Zelman Style Team's priority is to create unique and personal environments that are fit for any lifestyle.
We aren't just interior designers. Our team members are also conceptual thinkers, consultants, and inspiration engineers. Our high-end interior designers construct blueprints, architectural details, and digital renderings. We are Zelman Style Interiors, we are ZLMN. Contact us today at (954) 718-6100 or by emailing Eileen@zelmanstyle.com.