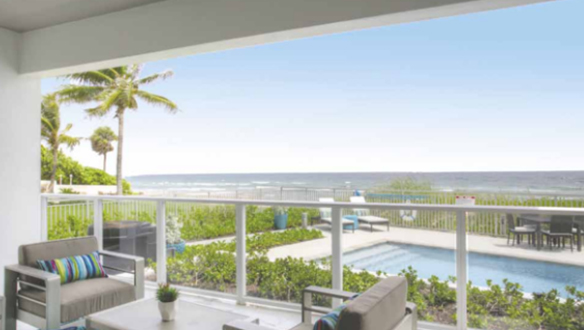 QUEST FOR OCEANFRONT LIVING LEADS TO ROBUST SALES AT HILLSBORO MILE'S
With a premium on oceanfront land, especially along the prestigious stretch of Hillsboro Mile, there's a pent-up demand for superior low-rise, quality construction.
Demand in South Florida remains strong for new luxury beachfront condominiums and, with the scarcity of inventory, it's apparent why the pace of sales at 1200 The Ocean has been
consistently active.
The developer of 1200 The Ocean, Pat Marrano, president of Marrano Homes, was at the forefront of the increasingly popular real estate trend, which has shifted from massive towering high-rise condos towards an intimate "boutique" design. The low density structure offers residents greater privacy and is much more conducive to authentic residential luxury living. 1200 The Ocean's limited-collection of 18 architecturally distinctive oceanfront condominium homes and penthouse residences is an ideal fit for the new generation of savvy home buyers.
Boutique condo living is a logical step for anyone looking to downsize from a large single-family home as it provides owners with an increased flexibility and a newfound sense of freedom. Enjoying an active and invigorating oceanfront lifestyle with access to the daydock at the marina and the condominium's numerous luxurious amenities are just some of the primary reasons buyers cite when choosing to live at 1200 The Ocean.
"We are just now at the height of the season and as the bitter winter weather continues to blanket much of the country we are definitely seeing an increased interest from buyers and brokers from outside of Florida who are looking for the perfect second or third vacation home," said Nita Summers-Max of Nestler Poletto Sotheby's International Realty and director of sales for 1200 The Ocean. "Others are simply ready to either downsize or relocate to sunny South Florida permanently and since we are move-in-ready, they literally can move in the next day."
Another selling point is the captivating and distinctive interior designs. Each residence is expertly crafted by Steven Zelman, the famed interior designer and principle at Zelman Style Interiors, indisputably one of South Florida's most respected and successful design firms.
Zelman's talents for interior design have been featured on national television, and his clients include a roster of famous celebrities and athletes. He is distinguished with Decor Magazine´s Lifetime Achievement Award, numerous first place "Fame" awards from the Building Association of South Florida and five "Designer of the Year" awards. Zelman and his team have facebook.com/1200TheOcean meticulously designed each individual residence at 1200 The Ocean. No two units are the same. Each residence has a unique look and feel with a sophisticated flair that emphasizes the pristine natural setting and flawlessly incorporates color and texture within the contemporary designs of renowned South Florida architect Richard Jones, whose style and casual sophistication feature sleek, clean lines that accentuate the one-of-a-kind oceanfront setting. Each residence is well-appointed with volume ceilings, lavish baths, gourmet kitchens, expansive terraces, high-impact glass doors and windows, state-of-the-art smart technology and much more.
Amenities include two private pools (one on the ocean), workout facility, clubroom, gated entry to the beach, under-building parking and a private Intracoastal Waterway day dock just steps away. The private day dock is an extraordinary perk for 1200 The Ocean's residents who frequently take advantage of the neighboring marinas in Boca Raton, Deerfield Beach and Lighthouse Point and features easy access to the Atlantic Ocean from the Hillsboro Inlet.
Another perk is the liberal pet-friendly policy. Many luxury condominium associations either prohibit dogs or have a modest weight limit, not so at 1200 The Ocean. Priced from the $900,000s to the mid $2,000,000s for direct oceanfront residences, 1200 The Ocean boasts three open floorplans. Each stunning residence features three bedrooms, two-and-one-half baths and up to nearly 2,300 square feet of indoor/outdoor living space.
Prospective buyers and real estate brokers or agents are always welcome and encouraged to visit the sales center, which is open every day of the week from 11:00 a.m. until 5:00 p.m. or by appointment.
CALL (561) 706-1918 • EMAIL sales@1200theocean.com • FB facebook.com/1200TheOcean • VISIT 1200TheOcean.com